Fixatti offers a wide array of specialty adhesives to help embellish your substrates whether you are supplying top sports brands, sports leagues, national federations or sports clubs around the world. Heat transfers are a type of embellishment widely used in the fashion industry. They are a great way to personalize apparel and accessories on demand.
Custom heat transfer is the process where designs are printed onto a carrier such as a high quality transfer paper or PET film, and afterwards applied to your apparel by means of a heat press.The difference with DTG or direct to garment printing is found in printing onto the carrier instead of directly onto the garment. To apply the heat transfer to the garment, the latter needs to be placed in a heat transfer press. Heat and pressure will force the ink onto the garment.
The determination of which adhesive to use depends on
Printed substrate
Parameters dryer & heat press
Type of powder application process
Type of print screen process
Sometimes customers prefer to give extra performance to their inks by adding fine powder adhesives to create a superb bond and for fine lettering.
For this application, fine adhesive powders in sizes 0-80µ and 0-63µ are offered to be incorporated into plastisol inks, printable adhesives and highly washfast inks for fabric labels.
Fixatti offers its polyurethane and co-polyester adhesives equally for ink incorporation. Depending on the type of ink and the required performance, ink manufacturers determine the % of adhesive required.
Fixatti TPU adhesives are unique in the world, high end, combining an extreme elasticity with a soft touch leading to a transfer that will outlast the garment.
Fixatti PES adhesives are equally in big demand for applications where high elasticity is not so much required and where price prevails.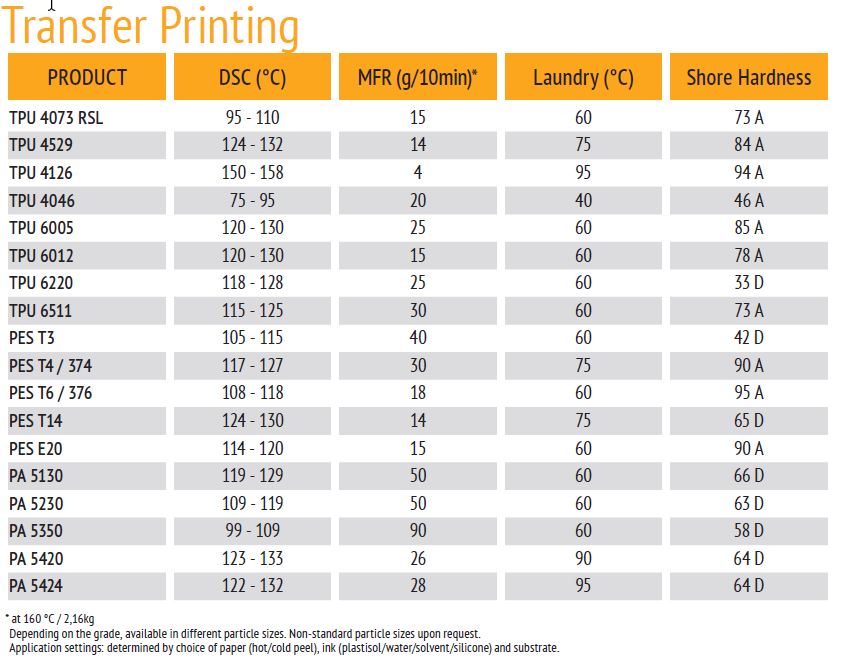 Application Processes